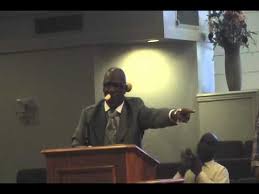 Darrell K. Nathan was born on August 23, 1964 in Louisville, Kentucky to parents, Ms. Ruby Norton and Pastor Fred Gardner. After graduation from Atherton High School in Louisville, he attended Jefferson Community College, the Mid-American Mortuary Science College in Jeffersonville, Indiana and Simmons Bible College in Louisville.
At the age of eleven, he confessed hope in Christ at the 12th Street Baptist Church under the leadership of Elder Sullivan Gardner where he gained early instructions in the teachings of Christ. He was licensed at the age of seventeen and received much spiritual guidance as an Associate Minister.
Darrell Nathan united with the Revelation Missionary Baptist Church where he served as Junior Church Pastor, assisting Pastor, Howard T. Reese. Due to discontinuation of the Revelation Missionary Baptist Church, he united with the Gilt Edge Baptist Church in Jeffersonville, Indiana where Rev. D.L. Motley, Jr. is the Pastor.
On June 19, 1987, Rev. Darrell Nathan was called to be the Senior Pastor of the Mount Zion Missionary Baptist Church. Pastor Nathan is married to the former Tracey Bruce, and they are the proud parents of one daughter, Kynnedy.